[img]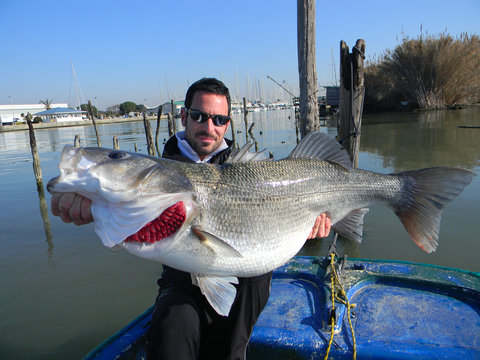 [/img]
River Monster, Sea bass in freshwater
May 5, 2011 | Guides
After years of research in the more usual spot on the bass as cliffs, beaches whitened with foam, river mouths I got the urge to try to capture some great mother in fresh water, pushing up a few miles upstream of large rivers flow . canteens of the true open for predators, provide fresh water to sea bass succulent morsels of many species of Louisiana crayfish, eels, mullet, small minnows and pieces as terrestrial frogs and mice.
This abundance of food means that the increase in weight of serranide in these environments is much greater than the sea but also the competition for food is much lower in the river should not divide the spoils with hungry fish as a greenhouse, barracuda, Lecce and others, at most a few black bass can be the antagonist.
After many hours of testing and observation, I managed to understand behavior and routes of patrolling some bass record and only after having understood, how to move and what baits to use, the results have started to come with catches of average weight about five pounds demonstrating how these commercials are unlike the sea populated with sea bass over size.
The approach to water is very different from the sea currents, underwater obstacles and lots of very deep, making the fishing action is very complicated, sensitivity, attentiveness and knowledge of the millimeter-selected site, will be eligible to get a strike with the big bass.
The equipment to be used on these occasions will be more powerful than that usually indicated for spinning serranide sauce, cane an ounce, both casting and spinning are necessary to move the best heavy lures also very deep, with peaks that can bathymetric go beyond the eight meters.
It is important not to choose too fast rods, are very good fast medium, such as the new Co Matrix 2.0, because they retain a good tip action when we have to maneuver around an ounce jig on very deep, but if you are fighting a good progression also in the central part of the tool. When we are dealing with fish of considerable size, remember that leverages the power of the river to double their power, so it is very important especially in the final stages of combat gear if you have with moderate grant a degree of elasticity models in more than fast or extra fast.
The great "mothers" tend to move in the lower layers of water in close contact with the bottom, then remember that even the most bladed crank, hardly able to swim more than five feet, then via the bait hard and outside of the rubber piombata.Artificiali provided strictly as a jig trailer or shad swimbait from soft high or better yet empty inside (Jackall bros ammonite shad, Castaic j jerky swim, Reaction Strike Fathead Jr.) heads mounted on both leaded and weighing between half ' oz el'oncia are perfect for jumping to the bottom, small clouds of mud that they form have a high power of attraction on the bass.
The colors that I recommend to fish in freshwater, almost always marked by colored water are: white, fluorescent and stunning black and purple can make a difference in situations of turbidity elevata.Carichiamo reels Castaic with Warrior Path Braid or Power pro around fifteen pounds and never forget to attach a good chunk of the carbon fluorine 0:30 to 0:35 about a meter, the bottom of some rivers is composed of very sharp rocks and human waste as shopping carts or scooters, structures items that can undermine even the best braids.
There as a time at sea or sea conditions improved, the big bass back and descend the river, using it as if it were a highway, trying to secure their journeys during the most prede.Quindi are fishable spot almost all the 'year and throughout the day whether we are in the presence of clear sky or under a heavy rain or in the heart of darkest night.[img]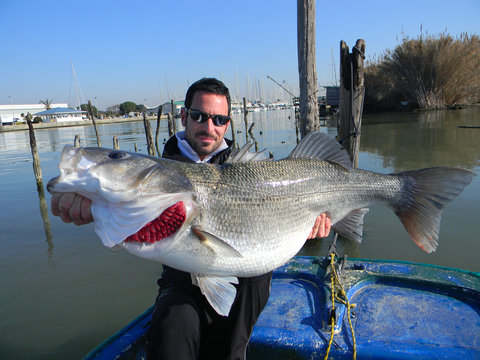 [/img]
Jesus that looks more like 40lb than 20lb

gerrywalsh







Number of posts

: 144


Age

: 36


Location

: Waterford


Reputation :

0


Registration date :

2008-12-18



yeah looks a lot bigger then 22lb

barry







Number of posts

: 983


Age

: 37


Location

: waterford


Job/hobbies

: keeping fish away from my baited hooks


Reputation :

10


Registration date :

2008-03-15





Similar topics
---
Permissions in this forum:
You
cannot
reply to topics in this forum