Here is the report that i was ment to put up ages ago but between the jigs n the reels only gettin a chance to put it up now!!
I got a txt off Paul the week before the competition to know if i wanted to fish it on the Sunday as he was going out for blues. After our very sucessful few hours the week before off of Cork for them i didnt have to think twice about it.
So we arranged to meet in the usual spot for 9am, with the sun shining and not too much wind about at that time we taught it was goin to be another crackin day for it. We headed out from Crosshaven into the harbour and straight out off Roches Point for a quick stop off for some macks. Loads of em around , so 20 mins later we headed out for the mark where we got the blues the last time.
40 mins later we were at the mark. And it was over the side with the rubby( Paul had the rubby frozen solid so much that he had to take half the freezer with it!!) and lines and balloons out. Paul put out a rod for garfish as well. The rubby wasnt in the water 20 mins and a big pod of dolphins came over for a nosey about. luckily they did nt stay around too long. By this time the wind had picked up and the swell was pickin up too and the 2 of us were doin jigs on the floor tryin to keep steady.
The 1st hour past and not a tap on the rods, same with the 2nd , every now and then we would check the drag make sure that its workin. Paranoia can set in after a few hours lookin at 2 balloons and waiting for them to take off!!
We were into our 3 rd hour and Pauls reel went screaming, he picked it up , and i was trying to get mine out of the way when all of a sudden there was a snap and Pauls braid snapped, (we're still not sure why) Then all of a sudden my line started to go, thinking the blue had just got wrapped up in my line i give it plenty line as i only had 45lb braid on my reel and to give ourselves a chance to get it to the side of the boat. It took 20 mins to get it to the boat the 1st time and we could see that i had it hooked in the mouth so i could be a bit more force full with it when she went on any more runs. After what seemed an eternity, think about an 40mins or so we manged to get her into the boat and get her all tagged and measured and pics taken. Twas the biggest fish and blue i have caught to date.
The swells and the wind at this stage were gettin the better of us and we decided to call it a day. We had an interesting spin in but Cianfisher and Paul were well able for it. Twas a pity there werent a few more sharks around but i think with the big swells it was hard to keep a good slick going.
Thanks to Paul for another great days fishing thats 2 in a row now!!! And to all who organised the competition and the sponsors, sorry didnt get to meet anyone but hopefully next time.You really cant beat this time of year when the blues are around, they really are great fun!!
Here are the lengths and tag number of her:
Overall: 84"
Fork:72"
Girth:30"
Tag number:34812
and some pics
[/url]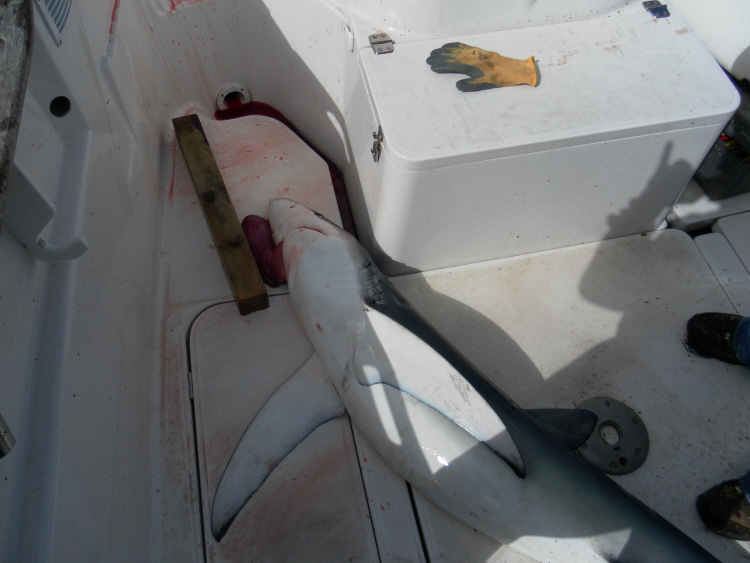 [/url]

Stu




Number of posts

: 33


Reputation :

0


Registration date :

2008-03-18



nice one stuart good report andgood blue well done on winning the competition.with the rough weather id say your stomach was hanging out too
.

barry







Number of posts

: 1005


Age

: 39


Location

: waterford


Job/hobbies

: keeping fish away from my baited hooks


Reputation :

10


Registration date :

2008-03-15



---
Permissions in this forum:
You
cannot
reply to topics in this forum